Citizenship Eligibility Calculator for PRs in Canada but works in US: To start from we need to understand the basic rules of having Canadian Citizenship. One of the key basic requirements is to have been physically present in Canada for at least three out of the last five years. But the question is will it count as a full day if you work in the US but reside in Canada?
The answer is Yes if you're a Canadian Permanent Resident working in the US, your workdays won't count against your physical presence requirement for Canadian Citizenship as long as you have a place to stay in Canada and return at some hour of the day.
Citizenship Eligibility Calculator
The Citizenship act defines the calculation length of physical presence categorically depending upon if the person is a temporary resident or permanent resident. The below points tells what the act states.
For Every Temporary resident or Protected Resident under the IRCC act (Immigration, Refugee & Citizenship Canada ) before becoming a Permanent Resident the person should spend half of a day for 365 days in Canada.
After becoming a Permanent Resident the person can have a day of a physical presence.
On Context to the second line above as long as you're a Canadian permanent resident living in Canada, Part of a day in Canada counts as a full day towards your citizenship.
All requirements required to apply for citizenship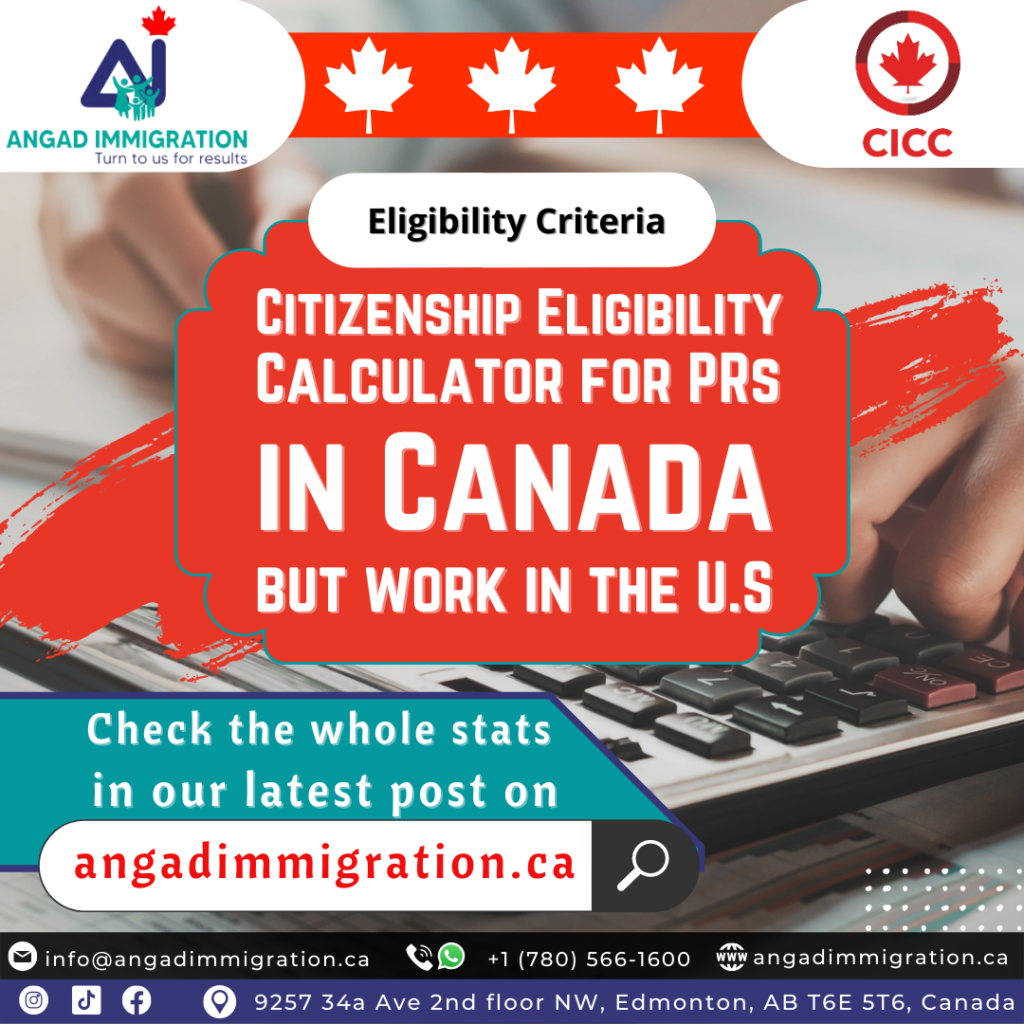 Permanent residents need to have at least have a resident for 2 years and have spent at least 10,35 days full days in Canada before the date of the application. IRCC only takes the term of 5 years before the date of the application.
It takes 2 full years to equal one full year towards your physical presence requirement. Refuge claimers can start continuing days after receiving a positive decision on their claims.
A person should at least know English or French to match with the Canadian society also you should be 18-54to submit proof of language proficiency. Also, you should make sure that you shouldn't have any criminal records. You should also be aware of the rights and responsibilities of citizens and have all the basic college in geography political system and history.
You might need to file taxes for at least 3 years out of 5 . Also you need to submit a formal application to IRCC and pay a government processing fee, and right of citizenship citizen.
Once the eligibility Criteria are done, you can apply for Canadian Citizenship. If approved applicants around the age of 18-54 have to take a citizenship test. Then you must attend the citizenship ceremony and receive a certificate of Canadian Citizenship, take the oath of citizenship and officially become citizenship.
Schedule an appointment with us HERE if you need a licensed ICCRC Immigration Consultant to represent your application and streamline your path to Canada
We hope that you found this article informative Citizenship Eligibility Calculator for PRs in Canada but works in US. If in case you have questions or queries related to any immigration program to Canada, please schedule an appointment with us. Our best immigration lawyers from Angad Immigration Canada will validate the profile as per the Immigration Program which is best suitable for you.