High demand and best job opportunities in Alberta?: Alberta is a province in Canada that provides a large number of job opportunities as well as a high standard of living. There are several factors like health, cost of living, education, and many more that attracts people to migrate to Alberta and work there. This post will be covering all the facts about Alberta and what are the benefits people enjoy living in Alberta. Additionally, the post will provide you with information regarding the best job opportunities that Alberta offers.
Top 12 Job Opportunities in Alberta
IT Manager (NOC Code- 0213)
Employment Insurance/ Immigration/ Border Services (NOC Code- 1228)
IT Analyst (NOC Code- 2171)
Data Base Analyst (NOC Code- 2172)
Software Engineer (NOC Code- 2173)
Construction Inspector (NOC Code- 2264)
Nursing Coordinators & Supervisors (NOC Code- 3011)
Pharmacists (NOC Code- 3131)
Marriage Counsellors (NOC Codes- 4153)
Health policy Researchers (NOC Code- 4165)
Community service workers (NOC Code- 4212)
Contractors & Supervisor (NOC Code- 7205)
How to find a perfect job in Alberta?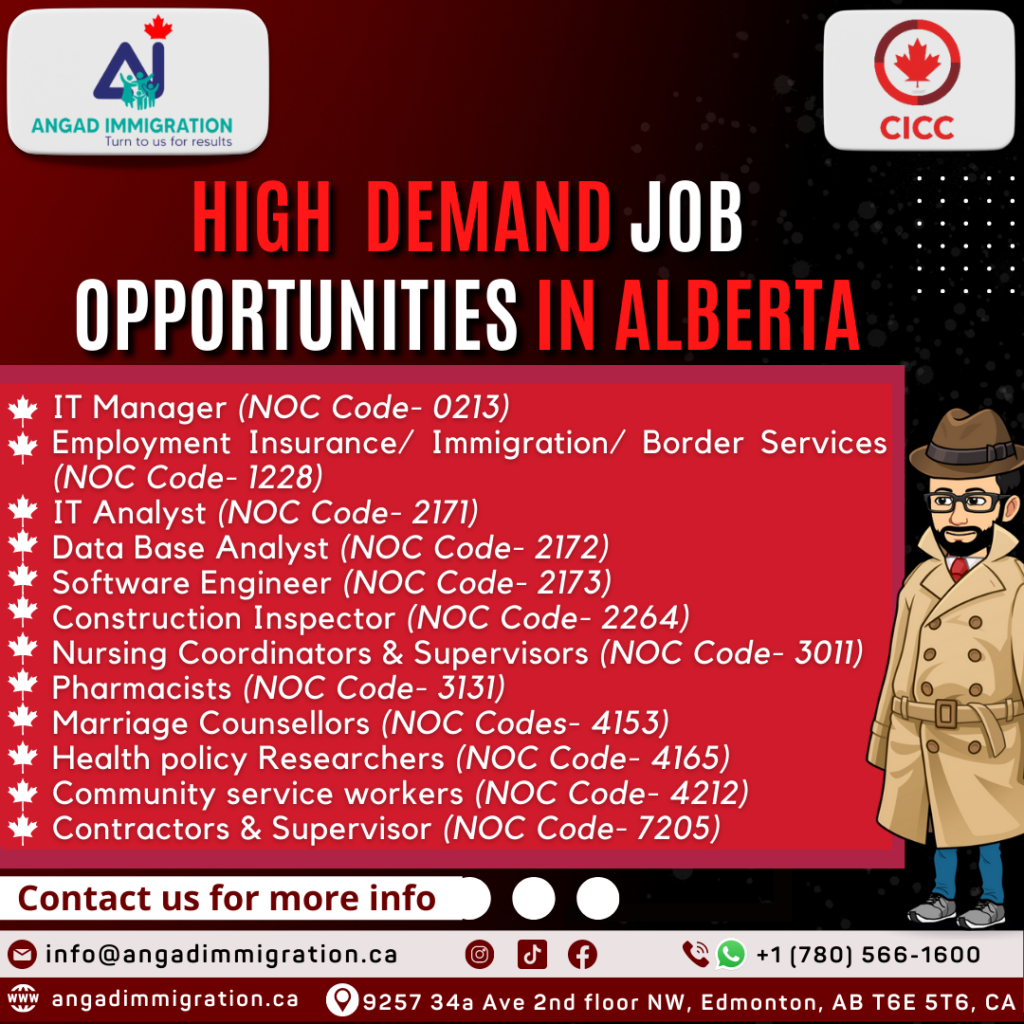 Alberta has a wide range of job opportunities and you have to find a job that is appropriate for you. The perfect job meets all your expectations like a high salary, job duties that suit your skills, and many more. Therefore, to find a job like this you need to put some effort as mentioned below.
Knowledge about job opportunities
The first step towards finding an ideal job is to find the job opportunities that require the skills you have. Also, check the list of the in-demand occupations in Alberta. Once you are done searching for the jobs, you need to see whether you can fulfill the job duties and hence apply for it.
Connections with people
Another thing that helps you to get a job is networking. Having discussions with friends or other people will help you understand things. They can guide you on various things like the needs of the different jobs. Moreover, they can introduce you to new occupations that you might not be aware of.
Contact recruitment agencies
Employment agencies have always been there to help people find their dream job. These agencies will bring out the best occupations that suit your skills to you. Additionally, they provide you with proper guidance in things like if there is a need to make some changes to your resume or other things that can help you get the job.
Impressive resume and cover letter
The one thing that plays a vital role in getting a job is a resume. Having an impressive resume that mentions the skills you have can have a positive impact on the employer and help you to get a job. Moreover, providing a cover letter along with a resume adds up to getting the best job.
AAIP Latest News

Application procedure for Alberta Advantage Immigration Program (AAIP) 2022
The major advantage that people in Alberta enjoy is a low cost of living. Also, residents of Alberta enjoy benefits like no PST, and no provincial healthcare premiums.
Alberta provides people job opportunities with higher incomes. In a survey, it has been found that people in Alberta enjoy much higher incomes as compared to other parts of Canada.
The one thing that attracts people to migrate to Alberta is the lifestyle.
People living in Alberta enjoy health benefits. People have access to hospitals, clinics, qualified physicians, and health care workers.
Alberta also provides people best educational facilities.
Angad Immigration delivers you the best immigration lawyers in Edmonton and Canada.
Schedule an appointment with us HERE if you need a licensed ICCRC Immigration Consultant to represent your application and streamline your path to Canada
We hope that you found this article about Why there are the best job opportunities in Alberta?  informational. If you have questions/queries related to any immigration program to Canada, please schedule an appointment with us.