Benefits of AAIP (Alberta Advantage Immigration Program) | AINP 2022: AINP is the Alberta Advantage Immigration Program that nominates candidates for permanent residence in Alberta. The only thing candidates must have is to get nominated skills to fill job shortages or be planning to buy or start a business in Alberta. This program is highly advantageous for immigrants. Let us know more about this immigration program in Alberta Province. The program is highly advantageous for international students who come on a study permit to this province. In this below post we will go through the Benefits of AAIP i.e Alberta Advantage Immigration Program.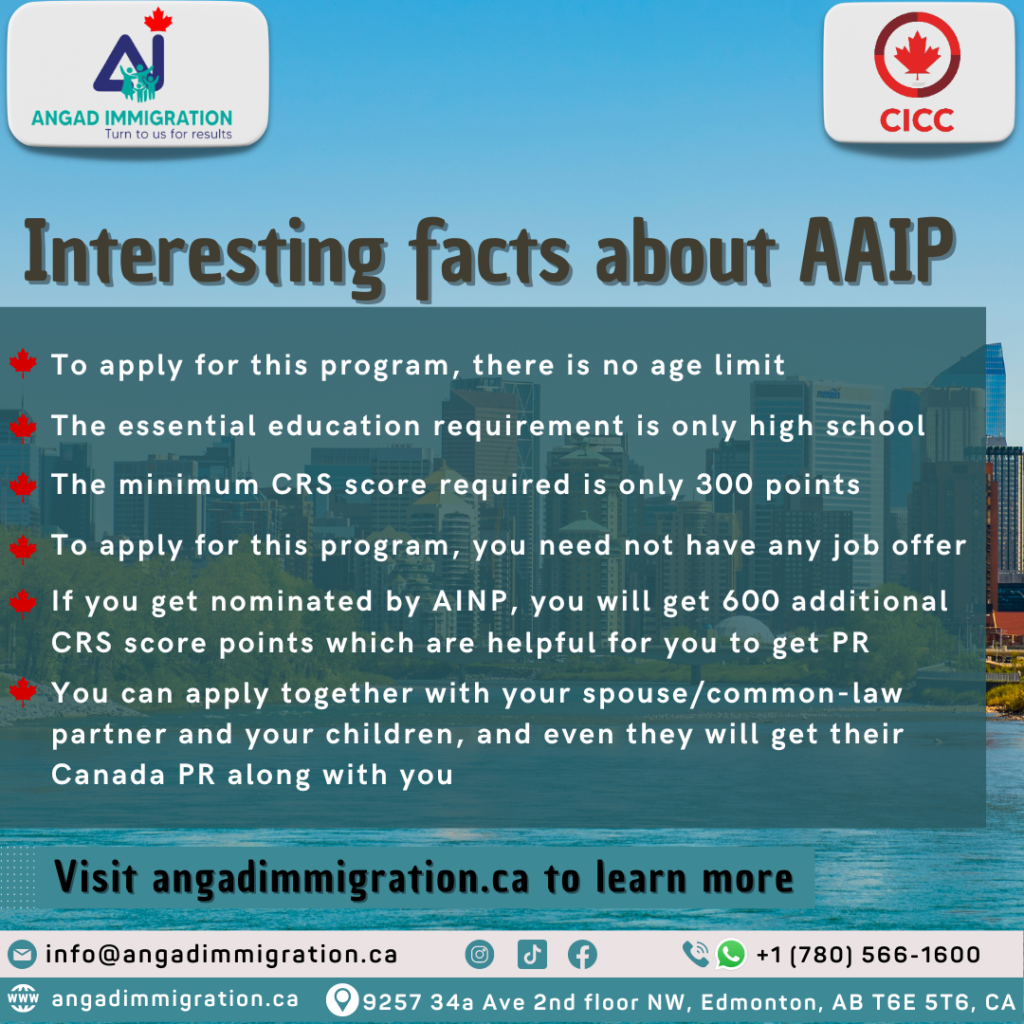 Applying for AAIP is a very easy process and also there are fruitful benefits of AAIP for an applicant. In order to apply for AINP, the potential candidate must create your profile in Express Entry. To get nominated from Alberta, you must mention Alberta as your preferred province. Or you can also click on "All Provinces or Territories". Now if you meet all the province requirements and your profile is found suitable, you have the chance to get nominated by Alberta.
The basic requirements, you need to meet for AINP Express Entry are as follows:
You must have a registered profile in the Express Entry system.
Language ability (score of CLB 7).
ECA (Educational Credential Assessment)
Minimum CRS score of 300 points.
Benefits of AAIP
There are a number of things about AINP which makes it beneficial for the Express Entry candidates. The advantages of AINP are mentioned below:
To apply for this program, there is no age limit.
The essential education requirement is only high school.
The minimum CRS score required is only 300 points.
To apply for this program, you need not have any job offer.
If you get nominated by AINP, you will get 600 additional CRS score points which are helpful for you to get PR.
You can apply together with your spouse/common-law partner and your children, and even they will get their Canada PR along with you.
Know more about AAIP 2022
Factors affecting AINP Processing time
If you are in Alberta and looking for a Canadian Permanent Residency then there are many benefits of AAIP for you. Following are the factors that influence the processing time for AAIP 2022:
The date when the application was received.
The volume of applications received.
Application quality (eligibility, information, documents).
Labour market information.
Facts you need to know about Alberta
Now as you are aware of some essential benefits of the AAIP Program, so now you must know some essential facts you need to know about Alberta. These facts can attract you to settle in Alberta.
Alberta has a very low cost of living: Which is a great advantage for international students
Cities in Alberta like Calgary and Edmonton have excellent job and travel opportunities.
Alberta is the perfect province to migrate with family.
Angad Immigration delivers you the best immigration lawyers in Edmonton and Canada.
Schedule an appointment with us HERE if you need a licensed ICCRC Immigration Consultant to represent your application and streamline your path to Canada
We hope that you found this article about the Benefits of AAIP (Alberta Advantage Immigration Program) | AINP 2022 informational. If in case you have questions/queries related to any immigration program to Canada, please schedule an appointment with us. Our best immigration lawyers from Angad Immigration Canada will validate the profile as per the Immigration Program which is best suitable for you.