300,000 people to get PR by 2023 – Canadian citizenship updates Canada aims to allot PR to 300,000 people in the 2022-2023 fiscal year which will help many Indians to immigrate to Canada.
Candidates under the age of 18 can apply for Canadian Citizenship by the year's end. The number 300,000 is expected to be achieved by 31st March 2023 which is mentioned in the IRCC (Immigration, Refugees and Citizenship Canada) official memo.
According to the IRCC (Immigration, Refugees and Citizenship Canada) memo's recommendation, Canada should process a minimum of 285,000 PR applications in the year 2022, to meet the application target of 300,000 immigrants in Canada.
Canadian citizenship updates on the PR process
IRCC is working to reach the target of 3,00,000 PR applications which means Canada should ensure that the new citizens should take their Citizenship oath personally online or on a given date physically.
Furthermore, this year's IRCC target has increased in comparison with the 2019-2020 target. Besides, IRCC (Immigration, Refugees and Citizenship Canada) couldn't even approve numerous applications due to the COVID-19 lockdown. If you apply for Canadian citizenship, IRCC generally approves, denies, or either marks your application as incomplete.
Also read: What is the importance of Motion 44 Canada immigration (M-44)?
Because of the lockdown, it is mentioned in the Canadian citizenship updates that IRCC only processed online applications due to which traditional ceremonies and in-person formal interviews to welcome immigrants didn't take place.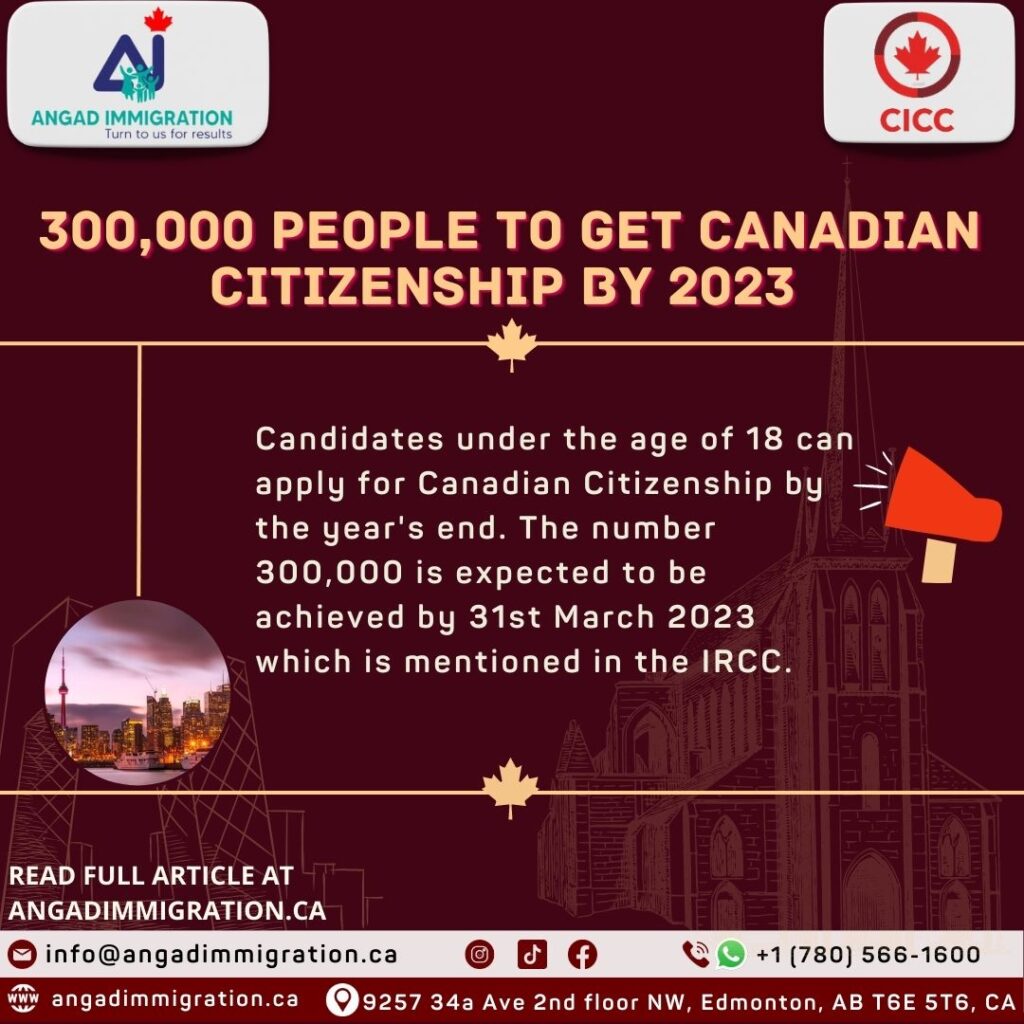 Current Canadian citizenship updates
In the previous years (2019-2020), there were 253,000 citizens incorporated in Canada, and 217,000 citizens in the year 2021-2020.
Furthermore, the fiscal year 2022-2023 incorporated a total of 116,000 citizens. It seems like IRCC will soon achieve the target of 300,000 new citizens in the Canadian citizenship updates.
Canada has only granted Canadian citizenship to only 35,000 people in October 2021. Besides, there is also an increase in standard processing time along with the increase in online applications after the pandemic.
PR for undocumented immigrants
2022 Canadian citizenship updates mention that to clear the backlog of 413,000 applications in June 2021, Canada hired around 1,000 new staff members to ease the process. Meanwhile, minors (under 18) can apply for Canadian Citizenship by the year's end.
Moreover, a rally took place with thousands of migrants along with their supporters to urge Ottawa on October 16, 2022, to grant permanent residency to undocumented people in Canada.
Latest articles about Immigration
In addition, people also made new requests to implement the regularisation program for unregistered immigrants immediately.
Moreover, the executive director of the Migrant Workers Alliance for Change said that we have the opportunity to fix the wrongs going on in the past years. He added that he will make sure that the parliament doesn't delay things related to the PR applications.
Also read: International students in Canada can work over 20 hours a week
On December 2021, the Justin Trudeau government in an official letter charged an urgency to develop the pilot programs for the investigation of the intentions for residency status regularising for the grieved citizens who are contributing to the communities in Canada.
Angad Immigration delivers the best immigration lawyers in Edmonton and Canada.
Schedule an appointment with us HERE if you need a licensed ICCRC Immigration Consultant to represent your application and streamline your path to Canada
We hope that you found this article about the 300,000 people to get PR by 2023 – Canadian citizenship updates informational. If in case you have questions/queries related to any immigration program to Canada, please schedule an appointment with us. Our best immigration lawyers from Angad Immigration Canada will validate the profile as per the Immigration Program which is best suitable for you.